Custom Printed Plastic Bags
Custom Printed Plastic Bags
Custom printed plastic bags are an advertising tool used by retailers to keep their brand in the consumer's mind. These bags make a lasting, memorable impression on your customers and indicates your investment in company products. Plastic bags with a logo can help your product reach an immense crowd. About 90 percent of people reuse branded plastic bags at least once, which gives your brand or company repeated exposure at virtually no cost. Is there a better way to help your customer remember your product? Plain plastic bag offerings are a missed branding opportunity. Take advantage of our custom printed plastic bags.
Take advantage of our eco-friendly plastic bags. Our bags are recyclable and biodegradable, accelerating their breakdown and degradation process. We utilize advanced technology to manufacture our bags, making them environmentally safe and friendly. With the features we offer, there is no need to be concerned about harmful waste impacting the environment. Our plastic bags are crafted of superior materials, while remaining cost-effective to our consumers. Purchasing our bags strengthens your commitment toward ensuring a healthy planet.
Our personalized plastic bags provide shoppers with a convenient way to carry their in-store purchases. Offering these bags is beneficial to your business: the bags are highly durable, lightweight, and strong enough to carry heavy items without ripping or overstretching. The bags are cost-effective, especially when ordered in bulk, you can save sufficiently on cost per bag. Our bags can be reused many times due to their durability. They make the perfect canvas for your company logo, ensuring your message is displayed in a clear and crisp manner.
Custom printed bags are an excellent way to communicate and carry your message everywhere. Your brand or company message is conveyed through presentation. A strategically branded bag is a highly valuable marketing tool. Custom printed plastic bags act as a powerful representative for your brand or company, whether you are actively advertising or not. Branded bags also serve to increase your market presence. Promotional plastic bags with handles add a touch of class to your business and encourages repeat customers. Custom promotional bags provide advertising opportunities for your business at your next trade show, conference, or convention. When you place a business card and an informational pamphlet or brochure in the bag, it becomes a powerful branding and selling tool. Increase your business presence by packaging corporate gifts in custom plastic bags branded with your company logo. Important clients, corporate partners, and workers will notice the thoughtful gesture when they receive your personalized plastic bags. Our custom printed plastic bags are essential for retail and promotional purposes.
There are a variety of bags which can be customized to suit the needs of your business, such as plastic bags, shopping bags, and specialty bags. Restaurant take-out food bags can be personalized, as well as produce bags for grocery stores. These are some of the many ways your brand or company can leverage its free advertising opportunities and maintain brand recognition even after hours. Customers are milling around with your bag in hand, unknowingly serving as advertisers for your brand or company.
From a creative idea to the final product, the first step is to work with a graphic artist to give life to your brand. Your brand logo should be distinctive, memorable, and should reflect what your company or brand stands for at a single glance. An effective logo is key in creating a lasting impression upon your customers. One of the most cost-effective ways of promoting your brand or company to the public is a custom printed plastic bag.
Once you have adjusted your company or brand logo to your liking, the graphic artist supplies us with the plates required to produce your bag. We then extrude the plastic and print your bags to order, and your advertising tool is ready.
Custom Printed Plastic Bags Sizes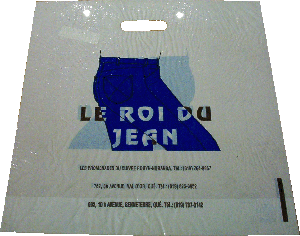 The following custom bag sizes are available and can be made to order. Please ensure 2-5 weeks for delivery.
9 x 12
13 x 16 x 4
16 x 18 x 4
17 x 18 x 4
20 x 24 x 4
If you would prefer a custom quote, please fill out the form below. As the name indicates, custom printed plastic bags are highly customizable and can be tailored to meet the specifications of your company. We offer a variety of sizes and colors to complement your products and your brand. Including the contact information and brand logo helps your business differentiate itself and create a space in a very competitive market. If you are seeking a meaningful way to add value to your brand, nothing compares to custom printed plastic bags for your customer. We have many options available in many colours and sizes. Each bag is designated for a different purpose. At Danshar Polybag and Resin Inc. and Toronto Stretch Wrap, we add our professional touch to your custom plastic bags and ensure your brand message reaches the public.


More Custom Printed Plastic Bags
Custom Printed Plastic Bags Wholesale
Custom Logo Plastic Bags Wholesale
More Plastic Bags
Clear Plastic Bags for Packaging
Plastic Bags for Bead Packaging
Plastic Shopping Bags Wholesale
---
2899 Steeles Ave. W.,
Units 9 & 10,
North York, Ontario
M3J 3A1
Fax: 1-855-669-6184
For skid quantities of stretch wrap, resin, or plastic bags only, please call
416-993-6804
orderdesk@torontostretchwrap.com

By appointment.
---