Custom Logo Plastic Bags Wholesale
Custom Logo Plastic Bags Wholesale
Purchasing custom logo plastic bags wholesale saves distributors money. Danshar Polybag and Resin Inc. and Toronto Stretch Wrap has been working with distributors for almost thirty years. Our distributors resell our products to the retail market. Industrial plastic bags are useful for all applications and offer the versatility of storing, transporting, and protecting a large range of products and materials. The high-quality, customizable polybags are available in many different sizes, thicknesses, and styles. Depending on your needs, we can also produce custom printed bags in various sizes, thicknesses, and colours. Your logo on the bag provides your company with free advertising as customers are sure to reuse your bags. Additionally, all our offerings and products come at lower wholesale costs.
Our custom logo plastic bags are created from low-density polyethylene (LDPE). Our bags are built with strength and durability to resist punctures and tears while in use. The bags provide ample space for large items and its two handles ensure easy and rapid transportation. The construction of our bags makes them user-friendly. Grocery stores, convenience stores, bakeries, coffee shops, eateries, and retailers will benefit from our easy-to-open bags, allowing packing items to be a fast and efficient service. These effective bagging solutions will keep your lines moving.
As a trusted supplier of plastic bags, we believe a bond of trust is required to work with distributors and honesty is our policy. We do not sell to our customer's customers. For over thirty years, we have maintained long-term relationships with our distributors and continue to provide them with loyal and efficient service. At Danshar Polybag and Resin Inc. and Toronto Stretch Wrap, strong relationships with our customers are of utmost importance.
We have some stock items which allows for quick delivery time once an account has been set up. Our products are proudly manufactured in Canada. Custom printed orders are also distributor priced and delivered to you or directly to your customer with unmarked vans.
Custom Logo Plastic Bags Wholesale Supply
for Distributors and Retailers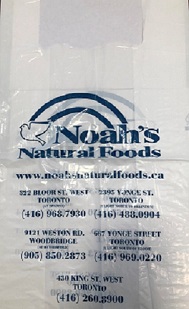 Distributors need to know that a quality product is being produced for their customer. Quality, service, and cost add up to continued customer satisfaction. Long-term relationships ensure that the cycle continues. Let us help you distribute your product, whether you are seeking stretch wrap, garment bags, grocery bags, and more. We can help you satisfy your customer's requirements. Some of our distributors also carry several of our products for resale.
We also invite you to work with our team of designers to strengthen your brand identity and to come up with ideas that will best represent your brand. Our printing methods ensure a clear display of your custom logo or artwork and is printed using food-grade ink. Contact our team today and we will guide you throughout the process. Our team treats each custom design with precision, helping your brand reach higher levels of recognition.
We make your brand name or company more accessible to consumers. Custom logo plastic bags wholesale are an excellent promotional items that can give your business or company the boost it needs to thrive in a competitive industry. Branded promotional items has become the preferred method of advertising. Promotional plastic bags with logos serves as an educating tool which will inform customers about the nature of your business and its offerings. These bags create an impact when you offer printed bags with logos. Your contact information and tagline will communicate your brand message effortlessly. Custom logo plastic bags can be personalized to your specifications. These bags are useful in advertising for your brand and increasing brand marketing. When your bag is carried around by your customer, your brand is being advertised free of charge. This advertising method allows potential customers to recognize your brand and connect to its message naturally. These custom printed plastic bags can generate more interest in your company and encourage more customer engagement.
Our bags are cheaper to produce and more convenient than paper bags. These bags are suitable for carrying many items at once providing you with optimal storage solutions on the go. The custom plastic bags are less likely to tear or puncture than paper bags. You can rely on these bags when purchasing groceries or clothes. The bags are also water-resistant and strong enough to withstand the elements while keep contents safe. Plastic bags are the most efficient and preferred method for packaging goods and trusted by businesses and consumers. These personalized bags can be utilized for a variety of purposes. Our bags are environmentally friendly, biodegradable, and recyclable.
To purchase products wholesale for distribution, please make an appointment with Toronto Stretch Wrap and Danshar Polybag and Resin Inc. for a visit at our office or yours. Once we see a sample of the goods you sell, we will then be able to provide an accurate and cost-effective quote. Or if you want to discuss the production of a new product, we can help. We strive to satisfy our customers--and yours. We are team players, and we work with you to ensure you are getting only the highest quality products at the most cost-effective prices.

More Custom Printed Plastic Bags


2899 Steeles Ave. W.,
Units 9 & 10,
North York, Ontario
M3J 3A1
Fax: 1-855-669-6184
For skid quantities of stretch wrap, resin, or plastic bags only, please call
416-993-6804
orderdesk@torontostretchwrap.com

By appointment.
---