Custom Logo Plastic Bags Wholesale
Custom Logo Plastic Bags Wholesale
Purchasing custom logo plastic bags wholesale saves distributors money. Danshar Polybag and Resin Inc. and Toronto Stretch Wrap has been working with distributors for almost thirty years. Our distributors resell our products to the retail market. Industrial plastic bags are useful for all applications and offer the versatility of storing, transporting, and protecting a large range of products and materials. Our high-quality, customizable polybags are available in many different sizes, thicknesses, and styles. Depending on your needs, we can also produce custom printed bags in various sizes, thicknesses, and colours. Your logo on the bag provides your company with free advertising as customers are sure to reuse your bags. Additionally, all our offerings and products come at lower wholesale costs.
As a trusted supplier of plastic bags, we believe a bond of trust is required to work with distributors and honesty is our policy. We do not sell to our customer's customers. For over thirty years, we have maintained long-term relationships with our distributors and continue to provide them with loyal and efficient service. At Danshar Polybag and Resin Inc. and Toronto Stretch Wrap, strong relationships with our customers are of utmost importance.
We have some stock items which allows for quick delivery time once an account has been set up. Our products are proudly manufactured in Canada. Custom printed orders are also distributor priced and delivered to you or directly to your customer with unmarked vans.
Custom Logo Plastic Bags Wholesale Supply
for Distributors and Retailers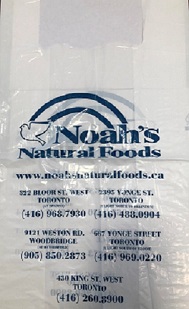 Distributors need to know that a quality product is being produced for their customer. Quality, service, and cost add up to continued customer satisfaction. Long-term relationships ensure that the cycle continues. Let us help you distribute your product, whether you are seeking stretch wrap, garment bags, grocery bags, and more. We can help you satisfy your customer's requirements. Some of our distributors also carry several of our products for resale.
To purchase products wholesale for distribution, please make an appointment with Toronto Stretch Wrap and Danshar Polybag and Resin Inc. for a visit at our office or yours. Once we see a sample of the goods you sell, we will then be able to provide an accurate and cost-effective quote. Or if you want to discuss the production of a new product, we can help. We strive to satisfy our customers--and yours. We are team players, and we work with you to ensure you are getting only the highest quality products at the most cost-effective prices.

More Custom Printed Plastic Bags


2899 Steeles Ave. W.,
Units 9 & 10,
North York, Ontario
M3J 3A1
Fax: 1-855-669-6184
For skid quantities of stretch wrap, resin, or plastic bags only, please call
416-993-6804
orderdesk@torontostretchwrap.com

By appointment.
---