Wholesale T Shirt Bags
A polybag manufacturer knows how to create quality wholesale t shirt bags that are affordable. Plastic bags are still high in demand due to their durability, flexibility, and reusability.
Polybags include specifications such as strength, durability, tear resistance, thickness, flexibility, transparency, and reactivity which can all be customized to suit your specific needs as a business. When selecting the right polybag for your business, it is imperative to make the right selection of wholesale t shirt bags to fulfill their intended purpose.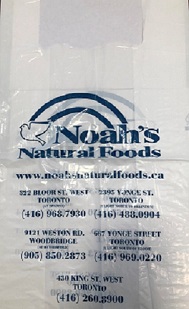 Wholesale T Shirt Bags from Polybag Manufacturers
Plastic products come in low density and linear low-density polyethylene. Polybag manufacturers understand that quality and strength in their wholesale t shirt bags are important for stores and other businesses.
Since plastic products can be used as marketing tools with a logo, trademark, name, and contact information printed right on the bag, the overall design and bag quality must make an impression on the customer. Other polybag features are sizes, handles, printed, or plain. These features add dimension and design to your polybag.
Whether you are looking for plain or printed bags, our polybag manufacturer produces high-quality bags suitable for all your containment needs.
Since wholesale t shirt bags are reusable, company logos attain exposure several times and serve as free advertising for companies. Plastic bags offer a lot of options when it comes to printing and once a logo is made to companies' specifications, the manufacturing process begins.
Clear, coloured, or white resin are fed into extrusion machines which create the sheeting in the colour of your choice. The thermoplastic polymers used in the production of polybags are derived from natural gas or petroleum. The resins which are heated to specific melting points work to form a viscous fluid that is sheet extruded. The sheeting is then transferred to bag printing machines, which provide the logo that was designed especially for your company. From there, the sheeting is placed on bag making or cutting machines, which cut the bags in the style desired.

Plastic bag manufacturers know that solid handles are important to the convenience of the customers using them. Handles are usually reinforced to provide extra strength. The handles are strong enough to allow the customer to carry a full bag load without worry that the handle will break.
Wholesale t shirt bags are available for a low price because they are sold in bulk. The larger the quantity, the lower the price. This helps businesses save money for other expenses. Working with customer specifications, a variety of sizes and colors are manufactured. These lightweight products are designed not to stretch or break.
Please contact us for quotes

More Custom Printed Plastic Bags


2899 Steeles Ave. W.,
Units 9 & 10,
North York, Ontario
M3J 3A1
Fax: 1-855-669-6184
For skid quantities of stretch wrap, resin, or plastic bags only, please call
416-993-6804
orderdesk@torontostretchwrap.com

By appointment.
---