Plastic Garment Bag
We offer plastic garment bag rolls at very competitive prices. Garment bags are often used by dry cleaners, laundromats, and retail stores. These bags are designed to enhance and keep clothing safe from dirt and dust, while leaving them wrinkle-free. New and recently cleaned clothing is kept clean, preserved, and free from creases or damage. Retail stores stocking apparel will find that garment bags effectively protect their offerings.
Our garment bags can accommodate the growing needs of customers and are certain to leave them satisfied.
Plastic Garment Bag Uses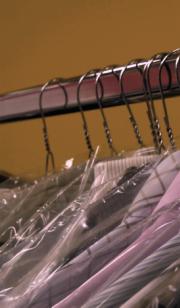 There are many uses for garment bags. Consumers will hang their clothes on a hanger in their closet, using garment bags to safeguard their expensive apparel. Bridal wear, suits, and dresses for special occasions are kept in excellent condition. Garment bags can be used to safely store sensitive materials, such as woven or embroidered items.
Dry cleaners and laundromats routinely place cleaned clothing in garment bags before returning the clothing to their customers. They do this to ensure that the item which was cleaned remains in its state of cleanliness. Garment bags are also used to protect sensitive garments while in transit. When your company transports clothing to your consumer, it is imperative to ensure clothing are adequately protected to keep clothing in its original form.
We offer garment bag rolls with sloped shoulders and slit holes for hangers. Our garment bags are flexible and clear. They are manufactured on a perforated roll for easy cutting. Custom sizes are available. Our company is well-known for its willingness to help customers find the best garment bag roll size for their brand.
Our polybag suppliers are experts at customizing clear polybags which best suit the needs of your business. Consult with one of our experts today and we will quote you a competitive price for wholesale garment bag rolls.
At Danshar Polybag and Resin Inc., we will ensure the following:
All our products come with a customer satisfaction guarantee.
Our products are manufactured at the factory to your specification.
Our garment bags come packaged as per your instructions.
For the cleaning and clothing industries, we offer clear straight-top or regular, lightweight garment bags with a hole for the hanger. Please specify whether your company would like this option.
If you would be interested in ordering garment bag rolls, we would be happy to assist you further. Please fill in the form below for a quote.
2899 Steeles Ave. W.,
Units 9 & 10,
North York, Ontario
M3J 3A1
Fax: 1-855-669-6184
For skid quantities of stretch wrap, resin, or plastic bags only, please call
416-993-6804
orderdesk@torontostretchwrap.com

By appointment.
---