Custom printed plastic bags wholesale are provided by Danshar Polybag and Resin Inc. at competitive rates and can be designed with or without a gusset in various sizes with custom print or plain.
At Danshar Polybag and Resin Inc., we not only offer custom printed plastic bags at affordable prices, but we also craft the bags to suit the intended purpose and application of the bags and more importantly, the needs of your business. Our polyethylene bags are able to maintain their shape even when manipulated. The pliability of the bags makes it easier to stretch around and conform to the shape of a product. These polyethylene bags have a large range of applications, making them more durable and resistant to effects of the environment.
Our company supplies plastic bags that are strong, lightweight, and are offered in various thicknesses to allow for multiple uses. These bags can be ordered in a variety of colors. We also offer the option of bags which include handles, making them easy to carry. Handles are either molded into the bag or attached. The materials our bag manufacturers use is moisture proof to help protect the items contained within the bags.
Custom printed plastic bags are often produced thinly. This is because thinner bags can help save space when storing them for use at workstations. The bags are also simple to use because they open easily and hold many products. Plastic bags are a useful tool for grocery stores and other such locations. Thicker plastic bags are often recommended for use at stores selling products such as specialty clothing.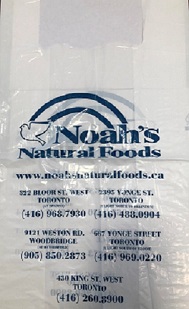 Whether you are a wholesaler or end user, we provided custom printed plastic bags wholesale as a means for cost-effective advertising.
A company can advertise its offerings to the public by using printed poly bags, which offer an inexpensive way to advertise a store's name by providing the business name and logo printed directly on the bags. Each bag can be customized to suit your company's specifications and still be considered as an inexpensive marketing tool.
Poly bag material provides a perfect canvas for customized printing for the bags. The ink our printers use is well accepted by the material and can be presented and displayed on the bag in a variety of colors. Customers who use and reuse your bags are walking around advertising your store as they hold the custom printed bags.
Even with a custom printed bag there are plenty of choices to be made, such as size of the bag, color of the bag, number of print sides, thickness of the bag, number of print colors, and the type of print required for the specific bag. Special orders usually have fast turnaround times with our professionals working hard to meet your criteria both professionally and in a timely manner.
2899 Steeles Ave. W.,
Units 9 & 10,
North York, Ontario
M3J 3A1
Fax: 1-855-669-6184
For skid quantities of stretch wrap, resin, or plastic bags only, please call
416-993-6804
orderdesk@torontostretchwrap.com

By appointment.