Custom plastic retail bags are everywhere and are used for many things. Whether they are used for a grocery store, a department store or a trade show, plastic bags are an inexpensive way to advertise.
Custom plastic retail bags are beneficial to businesses. They are lightweight and inexpensive to purchase yet serve as a potent marketing tool. Whether plastic shopping bags are used for grocery or department store shopping, it is the most cost-effective way to advertise one's business. Customers carry around your bags with your logo to many places far beyond your store or event, marketing your business to a larger audience.
Plastic bags purchased in larger quantities can often cost from forty cents to a dollar each depending on the bag. The bags are available at low cost and can be customized to suit the needs of your business. We ensure the design on your bag is highly visible and effectively advertises your business.
We offer a wide selection of plastic bags that can be personalized to your liking. Companies use plastic bags as a method of advertising and promoting their businesses. Plastic shopping bags are an effective means of catching the eyes of customers and may lead to additional sales. Danshar Polybag and Resin is proud to offer excellent quality custom printed bags to business owners, whether for retail stores or for promotional events. There are many options available to ensure you are receiving the bag which benefits your business and provides your customers with a pleasant shopping experience.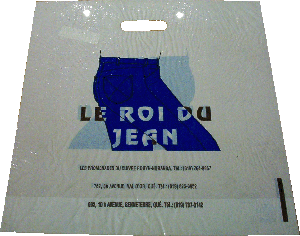 Custom plastic retail bags with logos are an effective way to advertise your business without additional costs. Your business gains exposure when your customer carries around your bag. Plastic bags with logos are highly visible. If you are promoting your business by attending a trade show, providing bags with your logo encourages repeat business. You can place promotional items inside the bag and people will be walking around the trade show with your visible logo.
Creating a logo for your business is a simple process. You can work with our designer to create the most effective advertisement which best conveys the message of your business. You can print your name and address or include your business slogan or perhaps you have a picture you would like printed on the bag. These advertisements help promote your brand. Designs are approved before manufacturing to ensure that bags are made to customer specification.
Our bags are versatile, durable, and sustainable. Large quantities of bags can be sent in one shipment allowing for efficient transportation. Plastic shopping bags can be reused multiple times and recycled. Contact us to learn about how you can customize your custom plastic retail bags for promotion. 
2899 Steeles Ave. W.,
Units 9 & 10,
North York, Ontario
M3J 3A1
Fax: 1-855-669-6184
For skid quantities of stretch wrap, resin, or plastic bags only, please call
416-993-6804
orderdesk@torontostretchwrap.com

By appointment.