Clear Plastic Ice Bags
Danshar Polybag and Resin Inc. and Toronto Stretch Wrap offers clear plastic ice bags for all your freezer storage requirements. Our ice bags are commonly used in homes, restaurants, and schools. Ideal for storing ice, these bags can also be used for storing a variety of frozen goods. We proudly provide our customers with ice bags in printed or plain options. Our manufacturing process yields an excellent balance for ice bag requirements using heavy gauge low density polyethylene (LDPE) film resulting in a high impact, strongly durable bag suitable for ice storage.
Our heavy-duty, high-quality ice bags provide you with exceptional strength and durability. We manufacture and supply plastic ice bags made with a special strengthening additive specifically for freezer use. The additive within our ice bags protects them from deteriorating in extreme cold temperatures. Throughout the manufacturing process, our ice bags are produced to possess the ideal amount of strength, as well as cold storage ability. These additives also increase durability and are puncture resistant.
The clear plastic ice bags are high in gloss and boast superior optics and clarity, with low haze. Our bags come in various sizes and are available in both printed and plain options. If you are seeking the perfect-sized ice bag, look no further. We offer high quality bags that are especially manufactured with freezer-safe properties in 5 lb., 8 lb., 10 lb., 20 lb., and 50 lb. bag options.
These bags offer different capacities based on their sizing and the style and size of ice cubes that are packaged. The 5 lb. and 8 lb. ice bags are commonly used at convenience stores, beach shops, and liquor stores. The 10 lb. ice bags are generally found at grocery stores, warehouses, and vending machines. The 20 lb. ice bags are often used for commercial applications, fishing charters, and catering. The 50 lb. ice bags are used in industrial applications, such as bulk ice sales for sports venues and stadiums.
Our ice bags are made from resins and are produced from a production process that generates ice bags with excellent properties. We use LDPE film to produce ice bags. Our manufacturing process ensures our ice bags are capable of withstanding external pressure and rough handling while allowing for easy hauling. Our bags are high in clarity, strong enough to hold large quantities of frozen goods, and display high impact capabilities. Our bags also possess the ability to maintain their shape and flexibility in low temperatures. The ice bags do not become brittle when frozen.
Our bags meet the specifications of the FDA and are produced from FDA-approved material. Our food-grade ice bags are made from virgin resins, which are approved by the FDA for contact with food. These resins give the ice bags a pure and hygienic feel. Other additives are included in the manufacturing process to increase the strength, tear, and puncture resistance of the ice bags, while allowing the bags to withstand freezing temperatures.
These bags are user-friendly and ideal for storage of ice. Their excellent clarity allows consumers to view their contents, ensuring the bags are located easily in freezers. The ice bags can maintain their shape and flexibility while containing the ice even at the lowest of temperatures. This reduces the possibility of puncturing and breaking. The bags are designed to withstand rough handling, and can be heat sealed, stapled, or tied with a twist tie. These methods secure the ice bags more thoroughly throughout the duration the ice bags are stored in the freezer.
Clear Plastic Ice Bags with Your Logo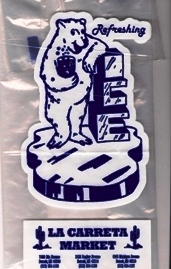 We supply clear plastic ice bags to both wholesalers and end users. Printed to suit with your company logo or specifications, or with a standardized logo, ice bags are available in standard or custom sizes and colours. Make a lasting impression on your customers using our excellent, food-grade ice bags, printed with your company logo.
Personalizing your ice bags increase your brand recognition and provide your company with a cost-effective way to advertise. Adding your company logo can create a connection between your company and customers.
Whether you are seeking printed or plain ice bags, Danshar Polybag and Resin Inc. offers ice bags in a variety of sizes that are certain to suit the needs of your company or business. All of our ice bags are manufactured in Canada.
Purchasing greater wholesale quantities will result in a significant discount. The following is the standard size which we sell our ice bags:
Standard Size
11 x 18 x 2 mil
Contact us for a personalized quote or by filling out the form below. We offer significant discounts on bulk purchases. Speak to one of our qualified representatives today. We have decades of experience in the plastic industry and can effectively assist you. Our clear plastic ice bags are sure to meet your needs and expectations and customer satisfaction is guaranteed. We ask that you additionally indicate required color, quantity, and size so we can better assist with your order. All our ice bags are proudly made and manufactured in Canada. Purchasing ice bags from Danshar Polybag and Resin Inc. and Toronto Stretch is certain to save your business money for the things that really matter.

More Custom Printed Plastic Bags


2899 Steeles Ave. W.,
Units 9 & 10,
North York, Ontario
M3J 3A1
Fax: 1-855-669-6184
For skid quantities of stretch wrap, resin, or plastic bags only, please call
416-993-6804
orderdesk@torontostretchwrap.com

By appointment.
---