Clear Plastic Ice Bags
Danshar Polybag and Resin Inc. offers clear plastic ice bags for all your freezer storage requirements. Our ice bags are ideal for storing ice and can also be used for storing a variety of frozen goods. We proudly provide our customers with ice bags in printed or plain options.
Our heavy-duty, high-quality ice bags provide you with exceptional strength and durability. We manufacture and supply plastic ice bags made with a special strengthening additive specifically for freezer use. The additive within our ice bags protects them from deteriorating in extreme cold temperatures. Throughout the manufacturing process, our ice bags are produced to possess the ideal amount of strength, as well as cold storage ability. These additives also increase durability and are puncture resistant.
Our ice bags are made from resins and are produced from FDA-approved material.  We use low-density polyethylene (LDPE) film to produce ice bags. Our manufacturing process ensures our ice bags are capable of withstanding external pressure and rough handling. Our bags are high in clarity, strong enough to hold large quantities of frozen goods, and display high impact capabilities. Our bags also possess the ability to maintain their shape and flexibility in low temperatures.

Clear Plastic Ice Bags with Your Logo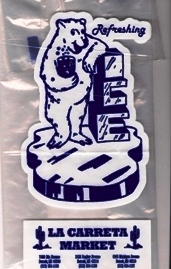 We supply clear plastic ice bags to both wholesalers and end users. Printed to suit with your company logo or specifications, or with a standardized logo, ice bags are available in standard or custom sizes and colours. Make a lasting impression on your customers using our excellent, food-grade ice bags, printed with your company logo.
Personalizing your ice bags increase your brand recognition and provide your company with a cost-effective way to advertise. Adding your company logo can create a connection between your company and customers.

Whether you are seeking printed or plain ice bags, Danshar Polybag and Resin Inc. offers ice bags in a variety of sizes that are certain to suit the needs of your company or business. All of our ice bags are manufactured in Canada.
Purchasing greater wholesale quantities will result in a significant discount. The following is the standard size which we sell our ice bags:
Standard Size
11 x 18 x 2 mil
Contact us for a personalized quote or by filling out the form below. Our clear plastic ice bags are sure to meet your needs and expectations. We ask that you additionally indicate required color, quantity, and size so we can better assist with your order. 

More Custom Printed Plastic Bags


2899 Steeles Ave. W.,
Units 9 & 10,
North York, Ontario
M3J 3A1
For skid quantities of stretch wrap, resin, or plastic bags only, please call
416-993-6804
orderdesk@torontostretchwrap.com

By appointment.
---