Plastic T Shirt Bag with Logo
T-Shirt Bag with Logo
T-shirt bag with logo is an excellent, attractive, and cost-effective plastic shopping bag option that can save store owners money. The polyethylene bags are easily made at large quantities per hour, which translates into saved customer costs. Various sizes of plain white bags are usually kept in stock and are more readily available. T-shirt bags are produced and manufactured with high density and molecular weight, which adds to their strength, durability, and reliability.
A T-shirt Bag with Logo is
Cost-Effective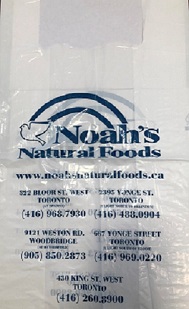 These plastic bags are both lightweight and strong, and easy to carry around. Our t-shirt bag offerings are available in either low density or high-density polyethylene.
High density bags are more cost-effective. These bags are generally used in grocery stores; the difference is in the store owner's preference. Often the low-density bag is preferred as it is a nicer quality bag. Both print well and come in several colours including clear.
Store employees and owners appreciate that these bags are easy to work with, are less bulky, and don't take up a lot of room because they can be hung on a bagging stand. Plastic t-shirt bags are strong and can be filled with many products. Unlike other bags, t-shirt bags do not add any weight to the items they contain, making them an ideal option for grocery and hardware stores.
Even cans and sharp boxes can be put in these bags and their durability will hold the products without puncturing. Bags filled with coke bottles can be held by their handles. This is not the case with paper bags, which handle with less portability and convenience. T-shirt bags also allow for fewer bags to be used per customer with more savings for the store owner.
Custom printed plastic t-shirt bags are a popular shopping bag option. They are used across a variety of industries for brand promotions. These shopping bags are given freely at retailers, such as drug stores and other commercial businesses. Customers readily use these bags to carry around big or small items, providing your brand with free advertising. Plastic t-shirt bags printed with your company logo are easily noticeable from a distance.
For custom print orders, a choice of colours, sizes, and thicknesses are available. Please indicate quantity, size, colour of bag, print colours, print sides, and thickness of bag when requesting a quote. Custom orders are usually delivered within 2-4 weeks after the design is approved and the artwork and rubber plates are complete. Order completion depends on the complexity of the job and the time of the year (holidays are always busy) so it is best to order in advance.
As a trusted plastic t-shirt bag supplier for over 30 years, Danshar Polybag and Resin Inc. is committed to delivering only the best products and quality customer service. Contact us for further assistance with your t-shirt bag with logo order.

More Custom Printed Plastic Bags


2899 Steeles Ave. W.,
Units 9 & 10,
North York, Ontario
M3J 3A1
Fax: 1-855-669-6184
For skid quantities of stretch wrap, resin, or plastic bags only, please call
416-993-6804
orderdesk@torontostretchwrap.com

By appointment.
---