Toronto Stretch Wrap
Toronto Stretch Wrap and Danshar Polybag and Resin Inc. offers you bundling solutions. When dispatching your products, you often do so by pallet load. You will want to take extra steps to ensure your products remain in excellent condition upon arrival. Often, damage can occur due to ineffective stretch wrapping. Damaged goods will not only cost you a lot of money but your reputation as a reliable business.
Stretch wrap is a highly stretchable plastic made from linear low-density polyethylene (LLDPE). Stretch wrap is tightly stretched and wrapped around a load of products to keep the products on the pallet. As stretch film is wrapped, tension is applied to the film and the elasticity holds the load together firmly.
In addition, stretch wrap also has high elasticity, stretch recovery, adhesive abilities, and is puncture resistant, which can prevent potential tampering of goods. Stretch film not only holds products together during transportation but to also holds products together in storage.

There are two ways to make stretch film, cast and blown.  Cast and blown film offer distinct advantages and disadvantages. Cast film is made by melting granules or pellets of solid plastic material. The material is then squeezed or extruded through a flat die. After the plastic material is extruded, it is taken to a chilled roller where it becomes a solid. This process creates machine or hand film.
Cast film offers the following advantages over blown film:
Excellent clarity
Quiet application of material
Better one-sided cling
More puncture and tear resistance
Consistently thick
Less expensive
Though manufactured almost similarly, blown film is more difficult to produce than cast film, and requires more steps in its manufacturing process. Blown film produces stiffer film that is more difficult to stretch.
Blown film has the following disadvantages over cast film:
Cloudy optics
Noisy application of material
Double-sided cling
Highly puncture resistant but not tear resistant
Adds unnecessary weight to loads
More expensive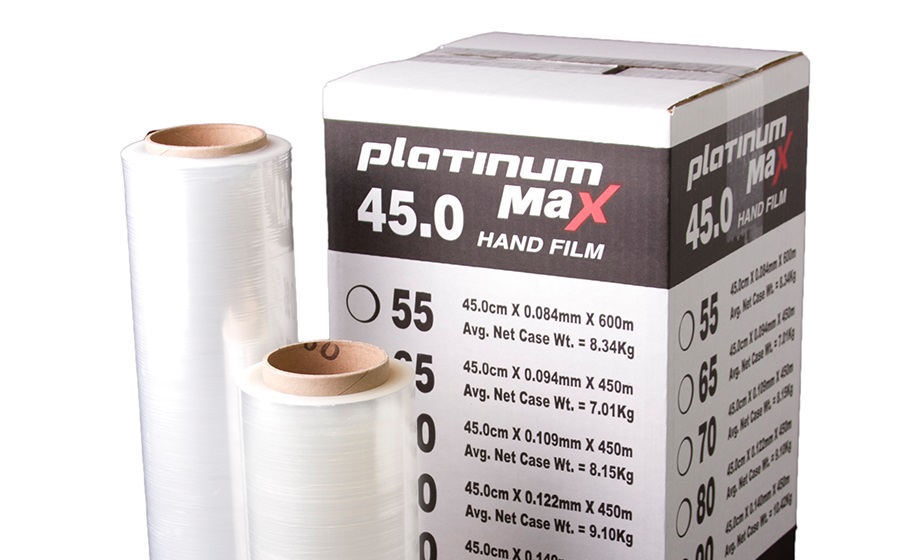 Clear, Opaque or UV Stretch Film
There are different assortments of stretch film such as clear, opaque, and UV stretch film. Each stretch film can be used for a different purpose. 

Opaque stretch film has the following advantages over clear stretch film:
Conceals valuable shipments from possible pilferage
Prevents product damage from dust, dew, or rain
Protects products from harmful UV Rays
Good for colour coding products
Outlasts clear stretch film when stored outdoors
UV stretch film protects and extends the life of products that are stored outdoors in the sun. Using UV stretch film is advised for any shipments that will be stored outdoors in direct sunlight for more than 60 days.

Linear Low Density Polyethylene Resin Stretch Wrap


Toronto Stretch Wrap Offers a Variety
Not all stretch film is the same. There are numerous brands of stretch film on the market today. Toronto Stretch Wrap and Danshar Polybag and Resin Inc. offers V-maxx, Platinum Max, and StretchMax brand stretch film.
Because we believe in quality and cutting costs for our consumers, Toronto Stretch Wrap and Danshar Polybag and Resin Inc. offers cast film only.

Contact us at Toronto Stretch Wrap and Danshar Polybag and Resin Inc. and we'll find the perfect stretch wrap to suit your needs.
2899 Steeles Ave. W.,
Units 9 & 10,
North York, Ontario
M3J 3A1
Fax: 1-855-669-6184
For skid quantities of stretch wrap, resin, or plastic bags only, please call
416-993-6804
orderdesk@torontostretchwrap.com

By appointment.
---