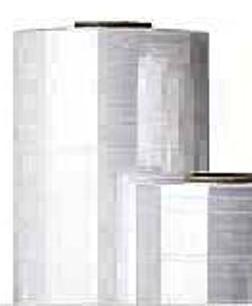 12 Inch Stretch Wrap
If you are seeking 12 inch stretch wrap, we have just the stretch wrap for you. We offer 12 inch clear hand stretch wrap in a variety of gauge thicknesses. We also offer brand name and no-name. Hand wrap is sought for its versatility and ability to withstand many stretch film applications. Our 12 inch stretch wrap can be used with handheld stretch wrappers and as well as with any stretch wrap machines which do not have pre-stretch capabilities. Our cast film stretch wrap retains a high holding force due to its great strength and stretch ability. This handheld stretch wrap is excellent for wrapping more difficult loads. Its dependable performance ensures that you are getting the most for your money.
We offer Platinum Max 12 inch stretch wrap. Platinum Max hand film is a superior performance machine wrap. This hand stretch film uses a high-quality resin blend, which offers superior resistance to punctures and load containment. Its high resistance to tearing is due to great cling strength and pallet load stability. 12 inch stretch wrap is durable, capable of working at lower temperatures, and resists tearing at sharp corners. The stiffness of the film allows for allows for thinner gauge profiles to be applied. Platinum Max shows unmatched strength in lighter gauges, effectively replacing higher gauges. Our films are made with the cast extrusion process, which allow for superior optics, are glossy, and have consistent thickness and cling. This film has a quiet release, which allows the film to unwind without noise. Its excellent elongation, puncture and tear resistance, and high clarity makes it a suitable option for all applications.

12 Inch Stretch Wrap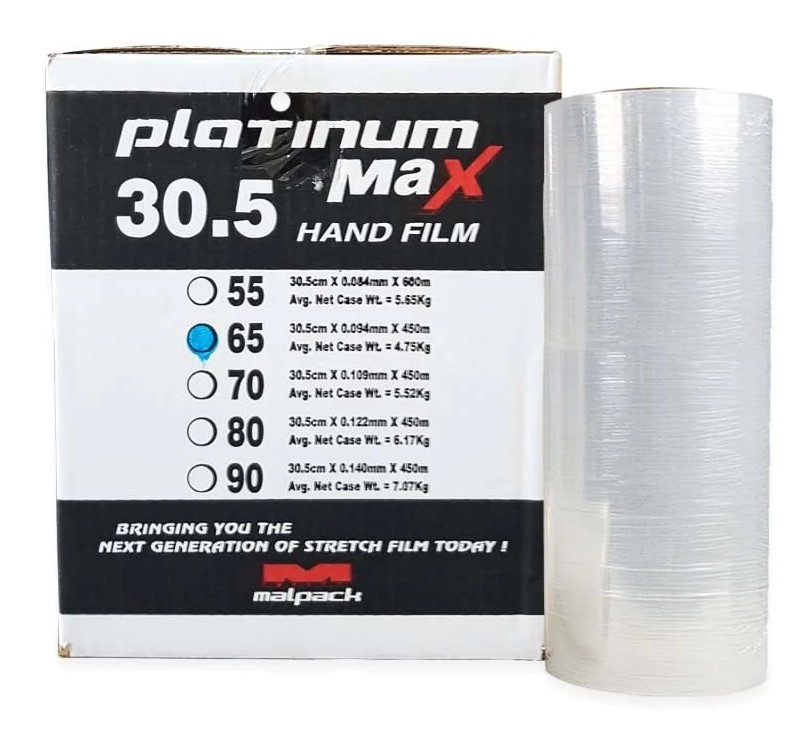 Our stretch films allow for an easy and smooth application and ensures efficient wrapping for all types of loads. For all your bundling and transportation needs, stretch wrap is the ideal option. Stretch wrap is not only used to secure shipment loads, but it can also be used to protect stock in warehouses. A very common use for stretch wrap is when it is applied to loads to prevent damage from occurring during transport. It provides an ease of use due to being self-adhering with high stretch and the ability to cling to itself. There is no need to seal the stretch film with heat. Stretch film keeps your loads safe and effectively prevents incidences of damage to valuable goods. Not only does the stretch film we offer in Toronto safeguard important products, but it also protects your products from dirt, dust, and moisture. Once the merchandise reaches its intended destination, the stretch film can simply be removed from the goods it has been protecting, leaving behind no residue or visible damage to products.
A feature of the stretch films we provide is its superior protection ability. During transport, items can be damaged by ultraviolet rays if the item is stored outdoors. Therefore, in addition to clear stretch film options, we also offer stretch wraps in black or blue to protect your goods from the sun and reduce incidences of possible pilferage by concealing valuable products from the view of others.
Our stretch films provide greater coverage and higher holding force at lower gauges, allowing for less worker fatigue. Platinum Max hand film allows for down gauging, which translates into huge cost savings for consumers. This film offers consumers the thinnest and strongest film in the industry, as well as the ultimate performance. At Toronto Stretch Wrap and Danshar Polybag and Resin, we provide our customers with superior 12 inch stretch wrap for wrapping pallet loads and ensuring their stability at the most competitive prices.
Stretch film is an excellent, cost-effective option for all your bundling and transportation needs. Stretch films are a better alternative to load strapping or heat shrink films which do not guarantee load stability. Using stretch film is also better for the environment, as there is less energy consumed it its production process as compared with other alternatives. Stretch film can be recycled, as well. Incorporating stretch wrap into your working environment and as part of your employees' bundling processes is likely to increase productivity among your workers, as stretch wrapping is a relatively simple, yet efficient process.
We provide machine and hand wrap options of stretch film in different gauges to suit the needs of your business. With the variety of stretch wraps available on the market, we are sure to find the film or films which will assist your business run more effectively.
Should you require any further information or assistance in determining which stretch wrap best suits the needs of your business, please do not hesitate to be in touch with us and we will do our best to help. We have been in the Toronto plastic business for over four decades and supply skid quantities to multitudes of businesses. Customer satisfaction is our top priority. When you speak to our representatives, you will not be disappointed. Contact Toronto Stretch Wrap and Danshar Polybag and Resin today for a custom quote.
Please contact us for quotes.
More Toronto Stretch Wrap Products


2899 Steeles Ave. W.,
Units 9 & 10,
North York, Ontario
M3J 3A1
Fax: 1-855-669-6184
For skid quantities of stretch wrap, resin, or plastic bags only, please call
416-993-6804
orderdesk@torontostretchwrap.com

By appointment.
---