12 Inch Stretch Wrap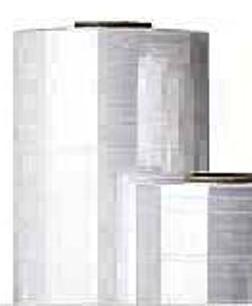 If you are seeking 12 inch stretch wrap, we have just the stretch wrap for you. We offer 12 inch clear hand stretch wrap in a variety of gauge thicknesses. Hand wrap is sought for its versatility and ability to withstand many stretch film applications. Our 12 inch stretch wrap can be used with handheld stretch wrappers and as well as with any stretch wrap machines which do not have pre-stretch capabilities. Our cast film stretch wrap retains a high holding force due to its great strength and stretch ability. This handheld stretch wrap is excellent for wrapping more difficult loads. Its dependable performance ensures that you are getting the most for your money.
We offer Platinum Max 12 inch stretch wrap. Platinum Max hand film is a superior performance machine wrap. This hand stretch film uses a high-quality resin blend, which offers superior resistance to punctures and load containment. Its high resistance to tearing is due to great cling strength and pallet load stability. 12 inch stretch wrap is durable, capable of working at lower temperatures, and resists tearing at sharp corners. The stiffness of the film allows for allows for thinner gauge profiles to be applied. Platinum Max shows unmatched strength in lighter gauges, effectively replacing higher gauges. This film has a quiet release, excellent elongation, puncture and tear resistance, and high clarity suitable for all applications.
12 Inch Stretch Wrap Features
Our stretch films provide greater coverage and higher holding force at lower gauges, allowing for less worker fatigue. Platinum Max hand film allows for down gauging, which translates into huge cost savings for consumers. This film offers consumers the thinnest and strongest film in the industry, as well as the ultimate performance. At Toronto Stretch Wrap and Danshar Polybag and Resin, we provide our customers with superior 12 inch stretch wrap for wrapping pallet loads and ensuring their stability at the most competitive prices.
Should you require any further information or assistance in determining which stretch wrap best suits the needs of your business, please do not hesitate to be in touch with us and we will do our best to help. We have been in the plastic business for over 40 years and supply skid quantities to multitudes of businesses. Customer satisfaction is our top priority. When you speak to our representatives, you will not be disappointed. Contact Toronto Stretch Wrap and Danshar Polybag and Resin today for a custom quote.


Please contact us for quotes.
More Toronto Stretch Wrap Products


2899 Steeles Ave. W.,
Units 9 & 10,
North York, Ontario
M3J 3A1
Fax: 1-855-669-6184
For skid quantities of stretch wrap, resin, or plastic bags only, please call
416-993-6804
orderdesk@torontostretchwrap.com

By appointment.
---