Clear Pallet Stretch Wrap
Clear Pallet Stretch Wrap
We offer clear pallet stretch wrap for wholesale shipping supplies. Looking for the best way to ship your wholesale shipping supplies? Whether it's product packaging, corrugated boxes, or packing peanuts, shipping wholesale products doesn't have to be a hassle.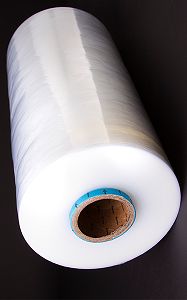 It can be difficult to ship your quality supplies at low costs. When it comes to shipping supplies and product packaging, you don't have to settle for less than the best. Our high-quality clear pallet stretch wrap for your wholesale shipping supplies means you won't pay more than you have to.
At Toronto Stretch Wrap and Danshar Polybag and Resin Inc., we provide you with shipping and packaging solutions that won't break the bank and cut back on overall costs. To us, quality stretch wrap offerings are of utmost importance.
Because our clear pallet stretch wrap is purchased in large quantities, savings will be passed on to you. Bundling your supplies with stretch wrap will ensure your supplies arrive safely to its intended destination without incurring possible damage to your merchandise.
Our stretch wrap is available in different sizes or gauges. We also stock clear, opaque, and UV stretch wrap for all your shipping needs.
When it comes to shipping your wholesale shipping supplies, are you completely satisfied with the wrap which holds your pallets? If your pallet wrap is tearing or puncturing, this can pose problems to your shipment and cause possible damage. To prevent this unfortunate outcome, look no further than Toronto Stretch Wrap and Danshar Polybag and Resin Inc.
Using Clear Pallet Stretch Wrap For Wholesale Shipping Supplies
Clear pallet stretch wrap is commonly used to wrap palletized boxes sent out for shipping. Opaque stretch wrap conceals valuable shipments and prevents possible incidences of pilferage. UV stretch wrap is best for merchandise that will be stored outside for long periods of time. So, whether you need clear, opaque, or UV stretch wrap, Toronto Stretch Wrap can customize stretch wrap that is right for you.
Purchasing stretch wrap at wholesale prices can benefit your business in many ways. Buying it in large quantities from one supplier will save your company time.
Buying your supplies wholesale brings a large quantity of supplies right to your company's door, without you having to go anywhere. This will minimize repeat ordering, resulting in saved time that can be used for more important matters. Wholesale prices and large quantity order discounts can save you a lot of money, both in the long and short-term.
Whether you are looking for clear pallet stretch wrap to wrap your wholesale shipping supplies or just want to keep stretch film on hand, contact us today at Toronto Stretch Wrap and we will find the stretch wrap that best suits the needs of your business.
2899 Steeles Ave. W.,
Units 9 & 10,
North York, Ontario
M3J 3A1
Fax: 1-855-669-6184
For skid quantities of stretch wrap, resin, or plastic bags only, please call
416-993-6804
orderdesk@torontostretchwrap.com

By appointment.
---