Clear Pallet Stretch Wrap
Clear Pallet Stretch Wrap
We offer clear pallet stretch wrap for wholesale shipping supplies. Our stretch film is made of heavy-duty plastic in many gauges to provide the consumer with industrial strength and durable stretch film. Each roll of stretch film contains superior load holding force. Looking for the best way to ship your wholesale shipping supplies? Whether it's product packaging, corrugated boxes, or packing peanuts, shipping wholesale products doesn't have to be a hassle. Our stretch film offers bundling solutions and can firmly secure large, oversized, or heavy items in the most severe weather conditions. Whether you're wrapping pallet loads or moving furniture or shipping supplies, our stretch film will assist you in your task. You can finally wrap your merchandise securely and quickly with our clear pallet stretch wrap.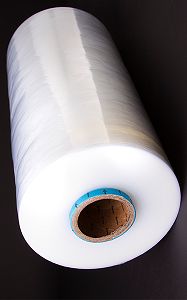 It can be difficult to ship your quality supplies at low costs. When it comes to shipping supplies and product packaging, you don't have to settle for less than the best. Our high-quality clear pallet stretch wrap for your wholesale shipping supplies means you won't pay more than you have to. Our stretch film has transparent, lightweight material, making it ideal for moving and transporting goods. The stretch wrapping process is more cost-effective and user-friendly than other materials available on the market.
Unlike tape, our clear pallet stretch wrap will not leave behind an unsightly residue when removed. Most industrial workers and movers turn to stretch wrap for their logistical needs. Not only can stretch wrap be utilized to protect pallet loads, but it can also prevent damage to fabric furniture from dust, dirt, stains, rips, and scratches. Our stretch film can be used to wrap perishable foods, such as fruits and vegetables, to maintain their freshness.
Our stretch film sticks onto itself, providing consumers with a two-sided cling. The glossy and slippery outer surface of the stretch film does not allow dust or dirt to cling. The stretch wrap also prevents pallets from sticking one to another.
At Toronto Stretch Wrap and Danshar Polybag and Resin Inc., we provide you with shipping and packaging solutions that won't break the bank and cut back on overall costs. To us, quality stretch wrap offerings are of utmost importance.
Because our clear pallet stretch wrap is purchased in large quantities, savings will be passed on to you as the consumer. Bundling your supplies with stretch wrap will ensure your supplies arrive safely to its intended destination without incurring possible damage to your merchandise.
Our stretch wrap is available in different sizes and gauges or thicknesses. We also stock clear, opaque, and UV stretch wrap for all your shipping needs.
When it comes to shipping your wholesale shipping supplies, are you completely satisfied with the wrap that holds your pallets? If your pallet wrap is tearing or puncturing, this can pose problems to your shipment and cause possible damage to your merchandise. To prevent this unfortunate outcome, look no further than Toronto Stretch Wrap and Danshar Polybag and Resin Inc.

Using Clear Pallet Stretch Wrap For Wholesale Shipping Supplies
Clear pallet stretch wrap is commonly used to wrap palletized boxes sent out for shipping. Our clear stretch wrap is manufactured using high quality resins and provides visibility for your merchandise. Transparent stretch film allows for simple identification of package contents. Opaque stretch wrap conceals valuable shipments and prevents possible incidences of pilferage. We offer black or blue stretch film for purchase. UV stretch wrap is the best option for merchandise that will be stored outdoors for long periods of time. Whether you require clear, opaque, or UV stretch wrap, Toronto Stretch Wrap and Resin Inc. can customize stretch wrap that is right for you. Our stretch films of various sizes and gauges are certain to meet with your specifications.
Purchasing stretch wrap at wholesale prices can benefit your business in many ways. Buying it in large quantities from one supplier will save your company time. Our stretch film provides a quick, easy, and straightforward application for your workers, which translates into saved time and costs. Our clear pallet stretch wrap is also tear-resistant and tear-proof to ensure an efficient shipping process—your valuable merchandise remains undamaged in the warehouse and in transport. For product protection you can depend on, look no further than Toronto Stretch Wrap and Resin Inc.
Buying your supplies wholesale brings a large quantity of supplies right to your company's door, without you having to leave the office. This will minimize repeat ordering, which results in saved time that can be utilized for more important matters. Wholesale prices and large quantity order discounts can save you a lot of money, both in the long and short-term.
Whether you are looking for clear pallet stretch wrap to wrap your wholesale shipping supplies or you would like to keep stretch film on hand just in case, contact us today at Toronto Stretch Wrap and Resin Inc. and we will locate the stretch wrap in the right gauge and size that best suits the needs of your business.

2899 Steeles Ave. W.,
Units 9 & 10,
North York, Ontario
M3J 3A1
Fax: 1-855-669-6184
For skid quantities of stretch wrap, resin, or plastic bags only, please call
416-993-6804
orderdesk@torontostretchwrap.com

By appointment.
---