Pallet Stretch Wrap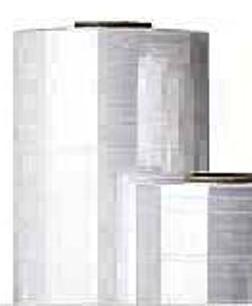 Proper pallet stretch wrapping can reduce chances of damage during shipping. More and more companies are palletizing loads for delivery because it is the most cost-effective way to transport large merchandise. When items are delivered on a pallet, there is less chance that they will be damaged. This is because pallets are handled only by forklift trucks, not by workers. In order for a pallet to arrive at its destination with no damage, a pallet must be properly packed and wrapped. Toronto Stretch Wrap and Danshar Polybag and Resin Inc. provides you with the following tips on how to wrap a pallet, compiled from UPS and FedEx guides:

1.       Choose the proper pallet.
The pallet should be strong enough to hold loads and large enough so your shipment does not hang over the edges of the pallet. Always avoid pallets with protruding nails and broken boards.
2.       Stack your shipment on the pallet.
Use pallet lined paper or a slip sheet under the load and under every third layer to evenly distribute weight throughout your shipment and to protect the bottom layer. When stacking, leave no spaces between products. Align boxes in columns from corner to corner for a stronger load. Boxes should be new and able to handle stacking and always stack smaller, lighter items on heavier items. Make sure boxes are sealed securely.
3.       Secure your shipment to the pallet.
Pallet stretch wrapping is an effective way to keep all the boxes together. Start by applying stretch wrap around the pallet and then, continue wrapping upward around the load. Overlap the wrapping by 50 percent, making sure the stretch wrap is tight enough to prevent the possibility of boxes shifting. You can also place a dust cover sheet over top of your shipment to protect it from the time it is packed to the time it is delivered.
Additional  Supplies Used for
Pallet Stretch Wrapping
There are additional products you can use to protect your pallet loads. Edge protectors can greatly reduce chances of shipping damage. Corner boards can be used to stabilize loads, prevent damages to the edges of loads, and increase strength when stacking boxes vertically. These products should cover the entire length and height of loads and be used on all corners. Using edge protectors and corner boards on palletized loads will help maintain each box's shape, rather than allowing boxes to be squeezed in when stretch wrap is applied.

For more information, contact Toronto Stretch Wrap and Danshar Polybag and Resin Inc.

More Stretch Wrap Tips and FAQs
2899 Steeles Ave. W.,
Units 9 & 10,
North York, Ontario
M3J 3A1
Fax: 1-855-669-6184
For skid quantities of stretch wrap, resin, or plastic bags only, please call
416-993-6804
orderdesk@torontostretchwrap.com

By appointment.
---