How to Stretch Wrap Furniture
How to Stretch Wrap Furniture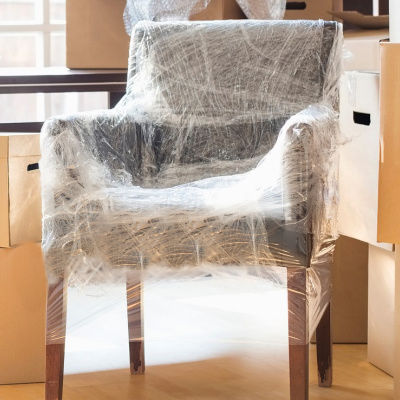 If you plan on moving, it is important to know how to stretch wrap furniture. Stretch wrapping your furniture can protect your belongings from dirt, dust, and damage which may occur during transit. Stretch wrap is a low cost, simple, yet effective method to protect furniture, such as beds and sofas, and heavy appliances from scratches and scuffs. Stretch wrap will tightly bundle items that are hard to pack. Because stretch wrap sticks to itself and not to surfaces, it is an excellent option for packing your items, as it does not leave behind a sticky residue.
Prior to deciding how to stretch wrap furniture, it is important to remove all detachable parts from your furniture to make all your pieces easier to pack and carry. Wrap items, such as chair legs, in blankets and secure them with stretch wrap. It is important to wrap each item individually, so that parts will not be able to touch each other. Regardless of the strength of each of your items, furniture corners remain the most susceptible to damage when moving. Unprotected furniture corners may scrape against doorways and walls causing further damage. Stretch wrap, foam, and cardboard pieces will secure these corners and ensure that furniture is moved easily.
How to Stretch Wrap Furniture Efficiently
The following directions will walk you through on how to stretch wrap furniture:
Begin by cleaning and drying your furniture. Ensure furniture is clean and dry prior to wrapping.
Remove all detachable parts, such as tabletops and chair legs. Pack each part separately.
Add paper padding to wood or leather products. Moisture may become trapped under the stretch film, causing mildew to develop. Adding a layer of paper padding allows for protection and more air flow.
Use extra protection for furniture corners, such as foam or cardboard pieces, to prevent scraping or damage.
Cover the furniture piece with stretch wrap by walking around the furniture piece and letting the stretch wrap roll unwrap. The stretch wrap will stick to itself and secure the furniture.
Other tips for how to wrap stretch wrap furniture include:
Cover the entire furniture piece to ensure that drawers and cabinet doors do not disassemble throughout the moving process.
Secure the cords of appliances by applying a thick layer of stretch wrap.
Pack items such as electric cables, curtain rods, and bed rails together.
Prevent possible spilling by placing stretch wrap under the caps of products.
Ensure that rugs are tightly rolled up during transportation.
Stretch wrap is undoubtedly the best material to rely upon for your moving needs. Knowing how to stretch wrap furniture is a valuable skill. At Danshar Polybag and Resin and Toronto Stretch Wrap, we sell high quality stretch film by the skid. Contact us today for a custom quote.
Please contact us for quote
More Stretch Wrap FAQs and Tutorials
More About Stretch Wrap for Shipping Furniture


2899 Steeles Ave. W.,
Units 9 & 10,
North York, Ontario
M3J 3A1
Fax: 1-855-669-6184
For skid quantities of stretch wrap, resin, or plastic bags only, please call
416-993-6804
orderdesk@torontostretchwrap.com

By appointment.
---