Non Woven Shopping Bags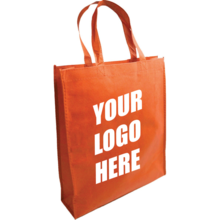 Toronto Stretch Wrap offers a selection of non woven shopping bags created from exceptional polypropylene materials that result in an air-permeable, soft, and smooth bag. Non woven bags are produced from polypropylene plastic threads which are bonded together through the usage of heat.
Ordering non woven shopping bags at wholesale prices allows you to save money for things that really matter. At Danshar Polybag and Resin, we work hard to keep costs low for our customers without compromising on quality.
Non Woven Shopping Bags Are Reusable and Recyclable
Our bags are reusable and recyclable, making them an eco-friendly alternative to single-use plastic shopping bags. Non woven shopping bags are also inexpensive to manufacture and remain durable when used multiple times. Our bags are produced with an 8-inch side gusset and 21-inch reinforced handles. The bottom inserts are of superior quality and reinforced, as well, which allows your customers to carry heavier products.
The manufacturing process of these bags ensures they maintain their shape and continue to look great even after much time has passed. Our non woven shopping bags also provide your customers with simple storage options; these bags are collapsible, flexible, and foldable, and will conserve storage space, while remaining easily accessible and found. Our lightweight, yet sturdy non woven shopping bags are excellent for carrying groceries and can survive many trips to the grocery store.
These non woven shopping bags can be personalized with your business logo. Customizing shopping bags with your brand is a convenient marketing tool. Turning a simple non woven shopping bag into a branded one can make a great difference.
Your customers will advertise your business for you when they carry around your bag. Your non woven shopping bag may be reused for a multitude of purposes, such as for a lunch bag, overnight bag, gym bag, beach bag, or gift bag. With repeated exposure, awareness of your business can build, resulting in potential customers becoming interested in your offerings and taking the initiative to contact you.
Our non woven shopping bags are available in laminated and non-laminated options. Our laminated non woven shopping bags are produced from 80 gram laminated, coated, water-resistant non woven polypropylene. To clean the bags, spot cleaning and air drying is recommended, but the bags are also hand washable.
Our non woven shopping bags are chemically and mechanically treated, resulting in improved flexibility and water absorption ability. Your customers will appreciate that your bags are an eco-friendly alternative to the traditional plastic shopping bag.
Danshar Polybag and Resin is proud to be a supplier of non woven shopping bags. Contact us today for a custom quote that is certain to suit the needs of your business.

More Non Woven Cloth Bags


2899 Steeles Ave. W.,
Units 9 & 10,
North York, Ontario
M3J 3A1
Fax: 1-855-669-6184
For skid quantities of stretch wrap, resin, or plastic bags only, please call
416-993-6804
orderdesk@torontostretchwrap.com

By appointment.
---