Non Woven Reusable Bags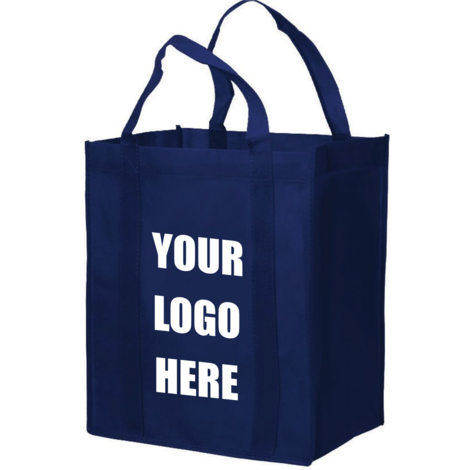 Danshar Polybag and Toronto Stretch Wrap offers a wide selection of non woven reusable bags crafted from superior polypropylene fibers.
The fibers are spun into long threads and pressed together to create a pliable fabric. The webs or sheets of these fibers are bonded together either mechanically, thermally, or chemically. The sheets are not woven or knitted, and the fibers need not be converted into yarn to produce a sturdy bag. These high-quality polypropylene fibers are engineered, rather than knitted or woven. These fabrics are usually found in single-use durable bags.
Non woven reusable bags are rapidly becoming one of the most sought-after bags on the market for retailers. With the many benefits these bags have to offer, the popularity of these bags is well-deserved. As marketing trends shift away from the single-use plastic bag toward reusable bags, we source non woven reusable bags for your company. The advantages of non woven bags rather than woven bags are clear. Non woven bags are manufactured using a spinning method which creates a solid, flexible, plastic fabric. The resulting fabric is superior to its woven counterparts, due to its durability and breathability. Woven bags are recognized for their checkerboard appearance, which may work in the short-term for some bags. However, the lamination process which seals the fabric can cause that material to pucker. Woven bags are also only available in one colour, white, whereas non woven bags are available in an array of colors that are certain to suit every style and trend. We offer non woven bags at excellent prices, helping your company cut back on overhead costs, and without compromising on quality.
These bags are convenient for your customers to carry and at the same time, benefit your business with inexpensive shipping costs. Offering reusable bags for customers to purchase can be beneficial to them and provide a cost-effective option, as stores have been charging customers for plastic bags. Customers can bypass the cost of plastic bags in stores by bringing their own non woven reusable bags. When branding a non woven reusable bag with your logo, your customers will provide your business with free advertising for many years just by carrying around your bag. Your brand's message will reach farther and wider-viewing audiences due to a customer's choice to reuse your bag. Make a professional impression and leave a lasting impact on your customers with our customized non woven reusable bags your customers will be using for years to come.
Benefits of Non Woven Reusable Bags
Non woven bags are fully recyclable, durable, and lightweight. The color and texture of non woven bags can last for years. Your customers can get much usage out of these bags due to the length of time they can survive. Non woven bags are eco-friendly, as they are not only recyclable, but reusable, washable, and simple to clean. Recycling and reusing non woven bags can prevent thousands of plastic bags from reaching landfills. Non woven reusable bags require less energy and water usage for production than cotton bags. These bags provide a more environmentally friendly alternative for your business. These bags can be recycled and then crafted into a variety of items, foremost, new non woven bags. Offering non woven reusable bags to your customers showcases your commitment to provide eco-friendly sourced bags and conveys that preserving the environment is a priority to your company.
Non woven bags provide customers with many usages. Bags that are customized with your logo can help raise awareness for your brand. These bags can be used for promotional purposes and are available in an array of styles and colors. All bags can be customized to reflect the message of your brand. Your logo will be reviewed by our in-house design team, who will review your logo and make helpful suggestions when necessary. Our customer service representatives can assist you in determining the style and color of bag that best suits the needs of your business.
Additionally, reusing non woven bags can help prevents plastic bags from cluttering households. Non woven bags occupy much less closet space than traditional plastic bags do. Our non woven reusable bags are durable and tear-resistant. Using these bags will prevent instances of multiple bagging due to their core strength. Additionally, non woven bags offer household storage solutions. They can be used to store laundry or other items. These bags are also perfect for the beach, gym, or storing extra supplies.
Offering your customers non woven reusable bags will help leverage your business and attract customers who seek environmentally friendly suppliers. By providing non woven bags, you are also doing your part to help the environment. Our responsibly sourced bags are proudly manufactured in Canada. Contact us at Danshar Polybag and Toronto Stretch Wrap today for a quote. We will help customize your order to suit the needs of your business. Customer satisfaction is our top priority. Our decades of expertise are at your disposal, our customer service representatives are on hand to assist you with any questions you may have. We are certain that our non woven reusable bags will meet with your expectations.
2899 Steeles Ave. W.,
Units 9 & 10,
North York, Ontario
M3J 3A1
Fax: 1-855-669-6184
For skid quantities of stretch wrap, resin, or plastic bags only, please call
416-993-6804
orderdesk@torontostretchwrap.com

By appointment.
---